Published March 28, 2017 by Ben Holt
Leave a comment
Lately I've been trying out a few specialty recipes! Here's one for authentic Indian chai. Hundreds of thousands of Indian women make this daily, and I can see why. It's delicious.
I've tested my chai on quite a few Indians, all of whom said it was very good. Because they were all nice people, I don't know if they were being totally honest or not. Advice is welcome!
Use the genuine spices when possible, or just the powdered kind.
-- 6 cups of water
-- 1/4 tsp (or 1 tbsp grated fresh) ginger
-- 1/4 tsp (or ten whole) cloves
-- 1/4 tsp (or one stick) cinnamon
-- 1/4 tsp (or 6-8 pods) cardamon
-- 1/4 -- 1/2 tsp (or 8-15 whole) pepper(corns)
-- 1/4 tsp (or one whole) nutmeg
-- 6 bags black tea
-- 1/2 cup brown sugar
-- 2 cups whole milk
The amount of pepper drastically changes the character from mild to very spicy! Nutmeg is my own addition and optional, but commonly used in Indian cooking, and I love the flavor.
Crush/grate/pulverize spices that need it. I use a plastic bag and a hammer.
Put spices in water, bring to boil. Simmer half-covered for 10 minutes, stirring occasionally.
Remove from heat, put in tea bags, let sit for 5 minutes.
Remove tea bags. Add brown sugar and milk, heat until just about boiling, serve hot! You can strain out the excess spices, or leave the "sludge" in the bottom of your cup like Jill does.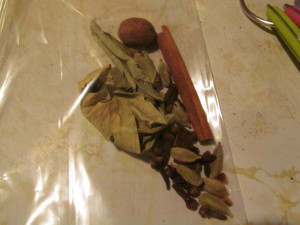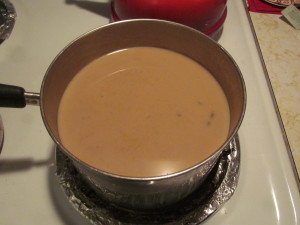 Post a Comment