Published March 29, 2009 by Ben Holt
16 Comments
I found two renditions of the Holt coat of arms (aka family crest) today: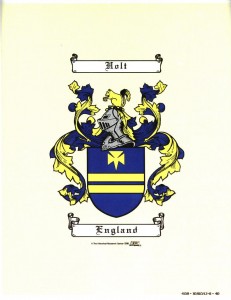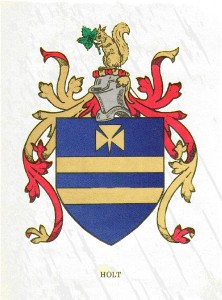 Neat, huh? Here's what it means in a nutshell:
-- "Holt" means "wood", "grove", or "thicket"
-- The background colour azure (blue) signifies loyalty and truth. The cross is a symbol of the Christian faith.
-- The squirrel signifies that the bearer was most happy in rural retirement and is a lover of woodland. The hazel branch is a symbol of abundance.
-- The Holt motto is "Exaltavit humiles" which means "He has exalted the humble."
Neither Jill nor I possess Holt blood. I was adopted into the Holt family at an early age by my dad, for which I am very thankful. I am fond of saying that I am twice adopted; once into the Holt family, and once into God's family!
My father is Dennis Holt (brothers Randy, Tom) --> Leroy Holt. Leroy drove trucks in WWII and still has a scar on his cheek from a German sniper (very close call). My uncle Randy Holt (Texas) is an avid student of genealogy and knows a lot more than I.
Lucinda
Hi there, This is my mother's coat of arms! This is part of the Follett Holt lineage. This would have been my great grand father's I suspect, as he had quite an influential role in establishing the Argentine railroads. I'm not sure if it pre-dated this but I could check with my mum if you're interested? She has lots of information on the topic. Nice to see it online! All best, Lucinda. x
leslie paul holt
well my grandparnts are from ,KY , dont know much about the rest of the family. i live in INDIANA , USA
Sharon Holt
Hello! I am just looking into my ancestry! My name is Sharon Holt, daughter of Stephen Holt, Grandfather to Lee Roy Holt, Great Grandfather of Michael Holt! Hoping to find out more!
katharyn cook
I was born Katharyn Holt in Oxford UK. My father was John Holt from Bishop Auckland, County Durham
Ben Holt
There's a lot of us! Hi all you Holts!
Ben Holt
Sharon, my grandfather is also Leroy Holt! Probably not the same one though.
Forrest Holt
My name is repetitive!
Joanie holt
I'm Joanie holt daughter of Richard Harry holt of London England. I live in California and want to find my two half brothers from my father. They're names are Benjamin & Paul ! Please respond, oh yes my fathers mothers name was Joan, my father says that most of my family is In Australia now. Found my dad at 20 I don't have much family & I'm 25 so if your out there write back
Jill
I'd ask your father how he knows how they got to Australia... maybe you could look up all the Holts there?
Andrew Douglas
My Great Grandfather was Alfred Pumphreys Holt of NW Arkansas. His family is fairly well documented in "The History of Washington County" - Ark. My father's name was George Forrest Douglas. Interesting to see both Holt and Forrest there. 14SEP2014
Amanda Holt
Hi all Holts. After coming from England...my family came down from Canada and settled in NY. Great and Grandfathers are both Fred Holt, Father is John Holt. Nathan Bedford Forrest is also part of our family so we have a Forest/Holt connection.
Robert holt
My name is Robert and my great ancesters came from England in 1620 on the ship greoge.his name was Randall Holt he was 13 at the time.landed in Jamestown va.I live in Conway sc
Robert M Holt
Grandfather Robert, born in Manchester U.K. Had a number of brothers some who eventually moved to Australia in early 1900's. Robert moved to eastern USA where his father was a preacher. Had 3 children Harold, Maude and Maurice (my father). Are the family crests under copyright?
Eric John holt
Hi all Holts. I was born in Australia and am 57 years old. My father was walter holt of charters towers Aus. ,b1936 son of Arther Holt of charters towers Aus,b1906 son of tobias holt walls end and charters towers Aus. b1880 son of joseph holt born chester le street durham,uk b1841 son of William holt of newcastle upom tyne uk,b1807 son of Tobias Holt, b1777 - chester le street, durham uk, Son of Tobias Holt - b1755, chester le street, durham,uk Son of toby Holt - 1730, uk Son of Ralph holt - 1705, Uk / son of tobias holt - b1675 durham uk. Just finishing the rest back to the late 1300s. I also have the grandparents of all. Anyone related.??? :)
Ben Holt
Sorry if your comment takes a while to be approved and appear here. I've no intention of preventing valid comments; just stopping spammers.
Rob Holt
Hellow fellow Holts, Much like Ben, I (Robert E.)was adopted into the Holt family. Actually my father (Robert A.) was the one adopted by my Grandfather Gordon Leroy Holt, when he was 6. The way 'Gordy' told it, his Grandparents moved from Wales (as Hoult's) and settled in Quebec. Then they moved down to Milwaukee, WI where Gordy was born. He served as a Sargent (Radio Man) in the Pacific theater in WWII (Guam, Iwo Jima etc) And after, settled in California where. It was in California that he met my Grandmother Rose Marie. Rose already had my dad, who was 6 when Gordy officially adopted him. Meaning HOLT is my birth name, but not my blood name. Regardless I am proud to carry and represent the Holt name!
Post a Comment