Published September 4, 2009 by Ben Holt
Leave a comment
I was thinking about how many guitars I've owned in the past couple years, and thought I'd give everyone a synopsis. During the last few years, and with our new budgeting system, I've had some extra cash to throw around. This led to a bad case of "GAS", or Gear Acquisition Syndrome.
To be fair, I don't collect guitars. I merely like to trade around. As of now, I actually have *less* guitars than I started with a couple years ago.
Also, this is only the guitar trading that's been going on. This chronicle doesn't even cover the massive amounts of other musical gear I've traded around, but it's probably more interesting. Here goes!
Pros: Plays nice, looks beautiful, good sustain
Cons: Heavy!
I had this guitar for about 14 years. My grandma bought it for me unexpectedly when I was taking lessons in 8th grade. I didn't really appreciate how cool a guitar it was back then, but I sure played it a lot! I traded it for two others guitars in November 2008.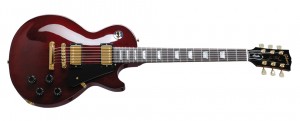 ---
Pros: Looks like a Les Paul, very thin neck, nice sustain, awesome tonal options, not heavy
Cons: Didn't like the way it played for some reason, tuners and finish on neck felt cheap
I traded my Les Paul to a guy who was offering TWO guitars for it in November 2008. The other was an Ibanez Iceman (see below). Jill liked the way this one looked, and the "spalted maple" finish was nice. Embarrassingly, after I traded this guitar in January 2009, I bought the same model *again* in May 2009 from another vendor. I thought I'd like it better the second time around. Alas, I sold the second one in August.

---
-- Ibanez "Iceman" IC400
Pros: ?
Cons: Horrible to play sitting down with the huge arm thing, neck not amazing, pickups not that great, a big piece of wood under the nut that I didn't like, bad intonation
Got as part of the trade, and promptly sold in November 2008 to raise money for my next guitar.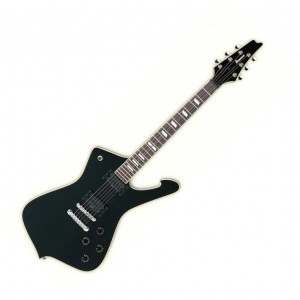 ---
-- Ibanez S320
Pros: Thin body, very light, nice finish, great pickups, thin/fast neck, adjustable tremolo system
Cons: Due to bolt-on neck and thin body (basswood), horrible sustain
I liked almost everything about this guitar. It was my first guitar with any sort of whammy/trem system, and I did like it. Eventually, the metal look and dive bombing got old, though. Bought in December 2008 and sold in June 2009.

---
-- Takamine EG-320
Pros: Cheap, sounded decent acoustically
Cons: Action too high, tried to adjust it myself and broke the pickup, which sounded lousy anyway
Jill and my dad bought this for me as a present around 2007, but didn't play it that much (more of an electric guy). I sold it in January 2009.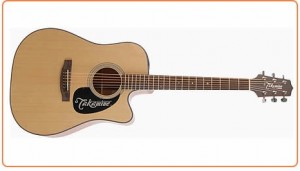 ---
Pros: Nice sounding pickups, good action
Cons: None?
I traded the Hagstrom Ultra Swede (above) for this guitar in January 2009. It was a fairly nice jazz guitar, but I eventually sold it (in June 2009) because I can play jazz on my electrics just fine, and I didn't use it enough to justify keeping it around. Jazz guitars aren't loud enough to be used acoustically either.

---
Pros: Beautiful Les Paul type look, awesome finish, nice pickups, decent action/intonation
Cons: Just didn't like the thicker neck after playing the Hagstrom, fine tuners on a fixed bridge are just weird
After *extensive* research, I bought this guitar without playing it. They are hard to find and aren't in production anymore. If I was still playing Les Pauls, I may have liked it better, but I just didn't like the way it played. I sent it back after a couple days in May 2009.

---
-- Schecter C-1 Classic
Pros: Neck-through-body, great pickups, awesome inlay, coil tap for both humbuckers, good action/intonation, not too heavy, ergonomic design
Cons: None yet!
This is the current apple of my very fickle eye. I researched it a lot before I bought it, and wish I had found it sooner. I bought the dark red version in June 2009 (used), and have been happy with it for a record of four months! I liked it so much I bought a second, blue one that I saw locally in August 2009. I traded it for another Schecter later the same month though. The red one is my current favorite, and I hope I will like it for a long time



---
-- Schecter S-1 Elite
Pros: Looks very nice with quilted maple and abalone binding all over, plays decently, good intonation, coil tap for humbuckers
Cons: Weak, muddy pickups, not as playable as my other Schecter
I traded my blue C-1 Classic for this guitar, but quickly decided to sell it and buy the Ibanez SAS32EX (below) in August 2009. It looks so beautiful, but wasn't my dream guitar I guess. Also, I'm not really a fan of the "SG" type look with the double short horns on the body.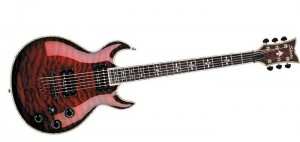 ---
Pros: Looks great, a non-complicated tremolo system, many tonal options with dual coil tap.
Cons: Pickups thin-sounding, goes out of tune with tremolo (no locking system) a lot.
This one played nicely and looked really swell, but I sent it back pretty quickly. Thank goodness for return policies. The pickups didn't sound that great, and it seemed to go out of tune with the slightest whammy bar use. I'm not that familiar with whammy systems, but they seem more of a hassle than anything. I think I'll be sticking with fixed bridges for a long, long time. Received and returned in September 2009.

---
-- Michael Kelly Patriot Custom
Pros: Sweet looking, ebony fretboard, mahogany body and neck, abalone inlays, good pickups direct mounted to body
Cons: Heavy
Les Paul style but with many great features. Also way cheaper than a LP. Coil tap for nice single-coil sound, abalone inlays, pickups mounted direct to body, neck through body. I love this guitar! I actually owned two at one point, this one and the Patriot Glory.

---
Pros: Headless, minimalistic design, awesome leg rest, graphite/composite neck, light, well-balanced
Cons: Bad quality control (sent first one back), bad action, thick neck
Unfortunately I sold my Michael Kelly guitars for this. Now Steinberger guitars WERE amazing, his original designs are brilliant. But Gibson bought out the company, and since then there haven't been many improvements. In my case the first one I got was built badly and had to be returned. The second one was ok but needed a setup badly. I also changed out the pickups because I don't like active ones. The playability was poor due to the really thick neck, and in the end I didn't keep it. It was sad, a great looking design but poor in other areas.
---
Pros: Original 90's Ken Parker era model, built-into-body humbuckers, piezo pickup, carbon fiber fretboard, coil tapped pickups, stainless steel frets, FOUR pounds, very low action
Cons: Tremolo system, piezo not very acoustic sounding
In the Summer of 2010 I researched the Parker Fly and bought an older model. This sweet guitar was made in the 90's when Ken Parker (the designer) was still at the company ensuring quality. I liked it for lots of reasons.
I sold this beauty a few weeks after I bought it. I loved everything about it except for the tremolo system and weak-sounding piezo pickup. For some reason, I have never been able to really get used to a guitar with a floating bridge. The Fly models have a unique trem system I thought I'd like better, but for some reason I just didn't. I doubt I'll ever buy a guitar with a floating bridge again.
---
Carvin lets you customize *lots* of things about the model you pick. They are made in the USA and for very reasonable prices. After owning so many guitars, it was really nice to customize one to my specs without spending over $2,000. The build quality was awesome, and I'd definitely buy from Carvin again. Mine had a walnut top, dual coiltap humbuckers, a piezo pickup, a MIDI pickup, single cutaway, f-hole, a mahogany body/neck, abalone pickups, ebony fretboard, flat neck radius, and gold hardware. A tung oil finish on the neck and a polyurethane finish on the body. I loved this guitar, but had to sell it to pay for my totally custom guitar from Bill Wilkat.
---
-- The Headless Holt
This guitar was commissioned in 2011 and built by Canadian guitar builder Bill Wilkat. Bill and I worked together on every detail of this build. He was a pleasure to work with and is very experienced at building custom headless designs. He's close to retirement and I caught him at the end of his career. Despite this he was very reasonable in his costs! Bill created this guitar based on my general ideas. He drew up the schematics and we went back and forth about how the finished product would look. I ordered most of the hardware, and Bill supplied the wood and labor. Then he sent me pictures all along the build process.
I wanted a headless design because it's small and I like the minimalistic look. Bill is an expert on these types of guitar designs. It has humbuckers with coil split and phase switches. There's no pickup rings, I love that simple built-in look. No tone control (I never use them). The volume control has a tuner right under it that you can access by pulling up -- so geeky and useful! The bolt-on neck is carbon graphite, made by Moses Graphite. The chambered body is made of ash and the top is made of a beautiful piece of walnut finished with oil.
I sold this guitar in 2013 after buying another Carvin that I liked *slightly* better and looked almost exactly the same.
---
-- Ibanez AF85
I thought I would like a jazzy hollowbody. It sounded nice but fed back like crazy playing with a band. I traded it for an acoustic.
Post a Comment